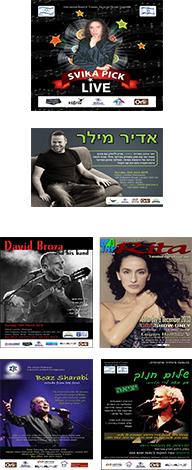 Zemach Productions Ltd. was founded by Mr. Shmuel Zemach in Israel, and over the past 50 years, has come to specialize in the promotion, production and organization of National Events, Theatre, Comedies, Dramas, Ballet, Artists and World Famous Performers in Israel and Worldwide.
To name but a few of the performers promoted by Zemach Productions over the years are: Pavarotti, Frank Sinatra, Simon & Garfunkel, Tina Turner, Elton John, Enrico Macias, Rod Stewart, Eric Clapton, Guns N Roses, Aerosmith, Nana Mouskari, The Bolshoi Ballet, Sir Ian McKellan, Sir Derek Jacobi, and many, many more.
Our company is also the only organization in Israel with the complete capability of coordinating an event from inception through to completion, including; planning, pre-production, public relations, advertising, transportation, customs, licensing, storage, lighting & sound, backstage catering, assembly and coordination.
Tzemach Productions UK (English spelling of "Zemach") was founded by Mrs. Tali Tzemach and has been the prolific UK branch of Zemach Productions Ltd. since 2001. Building a solid reputation as a multi-faceted and efficient production company and events coordinator, we have had the privilege of collaborating with the following venues in recent times:
• Wembley Conference Centre
• Wembley Arena
• The Dominion Theatre
• The Palace Theatre
• Artsdepot
• The Shaw Theatre
• Logan Hall
• Alexandra Palace
• Guild Hall
• KOKO- Camden
• Hilton London Metrople
We have also had the honour of promoting the following performers in recent times:
• Shlomo Artzi, Rita, Sarit Hadad, Eyal Golan, Boaz Sharabi ,Shalom Hanoch, Svika Pick, Rami Klainshtain, Yehoram Gaon, Einat Saruff, Matti Caspi, Dani Senderson, Achinoam Nini, Yehuda Poliker– popular Israeli singers
• David De'Or – world-renowned Opera Tenor
• The Idan Raichel Project, David Broza and Dudu Fisher – highly acclaimed and established "World Music" singers
• Enrico Macias- Internationally renowned French musician
• Adir Miller, Adi Ashkenazi, Eli Yatzpan, Avi Kushner, Miki Kam, Tzipi Shavit, Hani Nachmias, Dudu Topaz, Irit Anavi- Popular Israeli comedians
• Jackie Mason-Internationally renowned comedian
• Chanoch Rozen- Mine artist
• children entertainers such as Rinat Gabay, Moshe Datz, Tuvia Tsaphir as well as well known children shows of 'Ha'teatron Shlanu' and 'Orna Port theatre'
Every year Tzemach Production involved in the annual ceremonies of the state of Israel:
• The annual 'Yom Hazikaron' ceremony for the Israeli fallen soldiers.
• The annual 'Yom Ha'atzmaut ceremony to celebrate Israel independence.
• Tzemach Productions also was involved in the main ceremony held during the Olympic games 2012 in memory of the 11 fallen Israeli athletes in the Munich disaster, attended by the elite of the Olympic committee, British and Israeli governments including British Prime Minister Mr David Cameron.
Tzemach Productions UK was involved in the import of the following shows from London to Israel:
• "Shakespeare Abridged" of the Criterion Theatre to Israel
• We worked with Sir Cameron Mackintosh and Sir Andrew Lloyd Webber in taking the production of "Les Miserables" to Israel, to the Tel Aviv Opera House. The Les Miserables productions was co-produced by Sir Cameron Mackintosh and was unique in that, an Israeli cast performed on stage, but the Director, technicians, costumes, etc. were all brought over from England.
• The production of "Mamma Mia" to Israel for a period of three weeks
• CHORUS LINE
• Our office is currently working with Zemach Productions Ltd. in Israel to promote the production of the 'Swan Lake' by Matthew Bourne's to perform in TLV Performing Art Centre in June 2014.